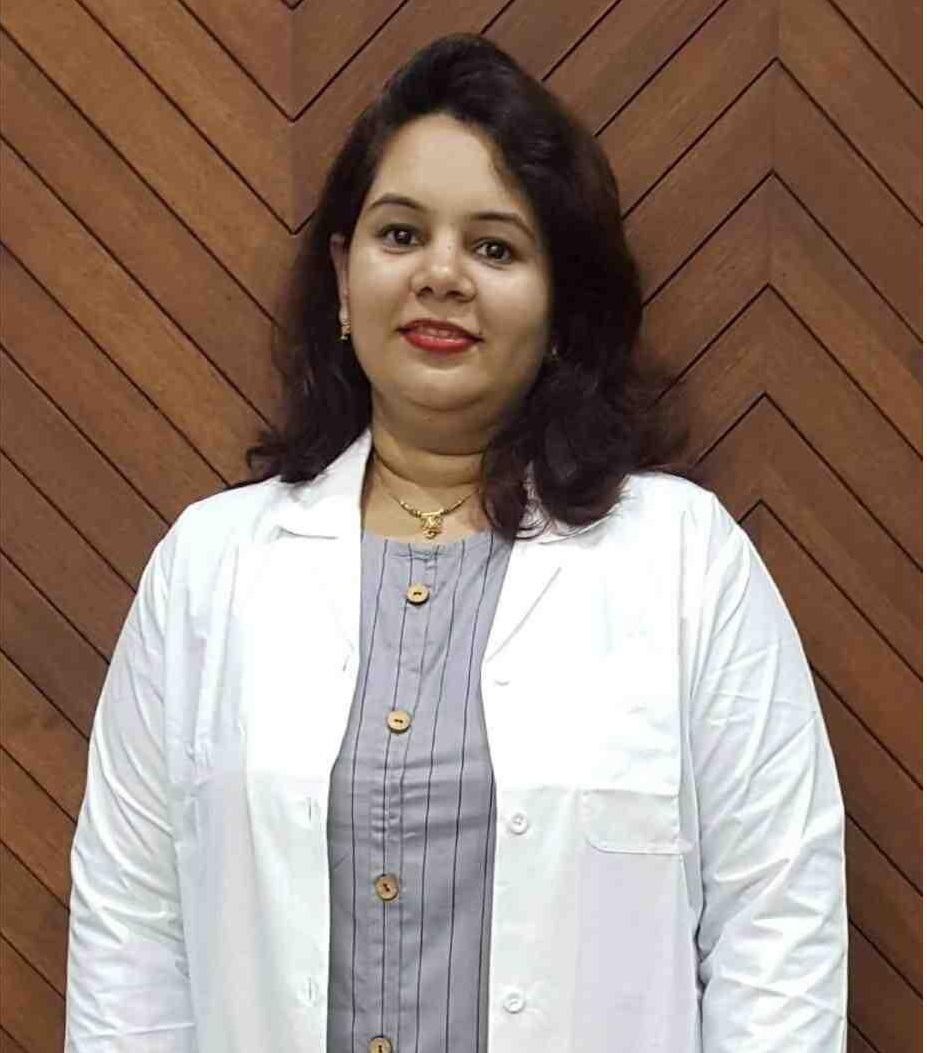 "Dr. Maitri Patel.Leading dermatologist and trichologist in Ahmedabad, providing exceptional care and solutions." 
Dr.
Maitri Patel
Dr. Maitri Patel. Medical Director and Owner of Iva Skin and Laser Center, Ahmedabad.
Dr. Maitri Patel: M.B.B.S. from Pramukhswami Medical College, Karamsad (2012) and postgraduate in Dermatology from Dr. Vasantrao Pawar Medical College, Hospital and Research Center, Nashik (2017). With 3 years of experience in clinical dermatology and cosmetology.
Dr. Maitri Patel: Actively participates in national and international conferences and workshops, continuously enhancing knowledge and expertise in various aspects of her field. Presented at numerous prestigious events.
Dermatology Scenario
She has been doing thorough practise in clinic dermatology since 3 years. She has treated end number of patients of fungal infections, different types of eczemas, psoriasis, vesiculobullous disorders, pigmented disorders, hair & nail disorders and at last most important acne vulgaris with almost 100% satisfying results. All treated patients are happy with the line of management, doctor's nature and achievable results.
Cosmetic Scenario
She is also doing practise as cosmetologist. She has best lasers and cosmetics machines in the center. She is also fond of chemical peels, antiaging & brightening treatment. She has attended lot many numbers of conferences and workshop to improve her knowledge in this subject. This kind of clients are also satisfied with the given results.
PUBLICATION
"A Progressive ulcer in immuncompetent man: cancrum oris".
DOI: 10.1177/0049475517709876
Journal of tropical doctorSAGE publication
"A rare and isolated presentation of primary cutaneous Anaplastic largecell lymphoma".
Acta Dermatovenerologia Alpina, Pannonica, et Adriatica. [01 March2018,27 (1):33-34]
PRESENTATION
Paper: (1) "Langerhans cell histiocytosis presenting as bluberry muffin baby: Rare presentation"
MEMBERSHIPS