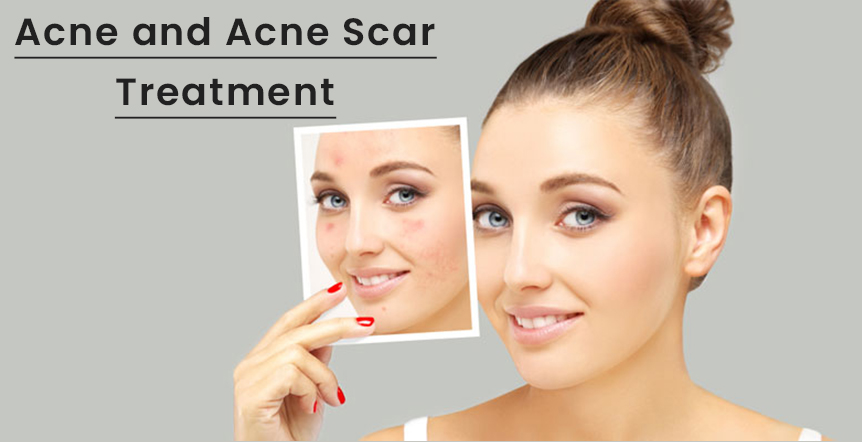 Acne And Acne Scar Treatment in Ahmedabad
Acne and acne Scar Treatment Ahmedabad - Acne, also known as acne vulgarise, is a result of oily secretions under the skin that block the tiny opening of hair follicles. When these become blocked, it can present as Blackheads, Whiteheads, Papules, Nodules, Cysts, or Pustules.
What causes acne?
Acne causes can include, hormonal changes, genetics, inflammation, and bacteria. The main issue in the Indian scenario with acne is that many people have often tried a variety of 'over the counter' acne treatment which is often ineffective. But one need not suffer. There are many different modalities of treatments that have been scientifically proven to reduce the appearance of acne and to help manage the symptoms. The main aim of treatment is to prevent scarring and reduce active acne, which can be achieved by early treatment. by using our service Acne and acne Scar Treatment Ahmedabad you can overcome such types of problems.
Treatments that are available that improve acne include :
ORAL ANTIBIOTICS
CREAMS OR GELS
CHEMICAL PEELS
LASER LIGHT
Sometimes one or a combination of treatment achieves the best results. At our clinic we offer Acne and acne Scar Treatment Ahmedabad, we conduct a thorough examination of your skin, lifestyle, eating habits, and make sure that a hormonal analysis is done. Once we get to the bottom of the cause of the acne, we start with the personalized treatment plan best suited for your skin type and acne grade.
Types of Acne Scars
There are many types of acne scars and a person may have a combination of these.
Ice pick– small, deep holes in the surface of your skin that look like the skin has puncture marks from a sharp object (like an ice pick)
Boxcar scars – round, square or oval depressions, or craters, in the skin
Rolling scars – caused by bands of scar tissue that form under the skin. Rolling scars create an indentation in the skin that looks like a wave, due to its wide size and shallow depth.
Atrophic – flat, thin scars or depressed scars
Hypertrophic or keloid – thick lumpy scars raised from the skin's surface.
Varicelliform - like chicken pox scars.
In an individual not all acne scars are alike. They can have different types of scars at the same time. Hence there is no single best treatment for established acne scars. Each scar and patient receives individual treatment according to the scars and their characteristics.
What are the treatments for acne scarring?
Many treatments are available for acne scarring; it is important to have a full consultation which will enable us to assess the best course of action for treatment. In some cases, there will be a range of different options depending on the types of scars present.
Treatment options for acne scars available
SUBCISION
PUNCH ELEVATION, PUNCH EXCISION.
MICRO NEEDLING RADIOFREQUENCY (MNRF)
PLATELET RICH PLASMA (PRP) THERAPY
if you are facing Acne and acne Scar problem then you should have to visit our clinic and get proper guidance from our experienced team. We will happy to assist you. Contact us Today for Acne and acne Scar Treatment Ahmedabad