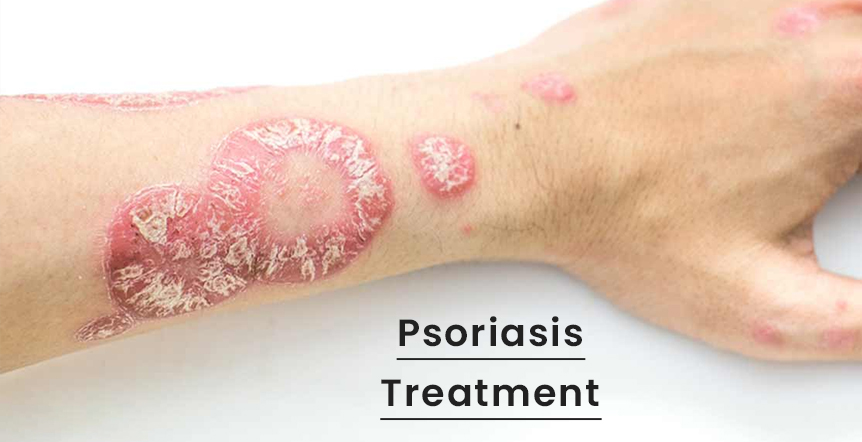 Psoriasis Treatment in Ahmedabad
Psoriasis is a common, chronic skin condition in which the skin goes red, scaly, and itchy. Psoriasis can affect the skin, nails, and joints. In recent studies, it has been found that the reason for psoriasis can be a metabolic syndrome that involves increased cardiovascular diseases and heart stroke, hypertension, obesity, glucose intolerance, dyslipidemia, and diabetes type 2. people are looking Psoriasis Treatment in Ahmedabad is at the right place, we at iVA Skin Clinic and Laser Center provide complete psoriasis treatment. Our team consists of Psoriasis specialists in Ahmedabad and cured thousands of patients in the recent past.
What causes psoriasis?
The causes of Psoriasis are still unknown but genetic predisposition is seen.Factors that aggravate psoriasis are :
Excessive smoking and consumption of alcohol
Anxiety or emotional stress
Obesity
Infection
What are the treatments for psoriasis?
The modern-day dermatology has found many effective treatments to enable minimizing psoriasis and prevent it. On the basis of the type of Psoriasis, its severity, your age and comorbidities, we at Iva skin and laser center provide various treatments like topical treatments, oral medications, Phototherapy, Excimer laser and injectable biological to help you diminish this skin problem.
Many treatments are now available for psoriasis :
Oral medications such as methotrexate, cyclosporine, apremilast.
Biologic injections
Diet and psoriasis
Diet plays and important role in psoriasis. As obesity is one of the aggravating factor, patients are advised to have low-calorie diets. Alcohol intake should be restricted in psoriasis patients. Fish, fish oil supplementation (rich in ω-3 PUFAs) and antioxidants (e.g., vitamin C, vitamin E, b-carotene and selenium) have shown beneficial effect on psoriasis and psoriatic arthritis.
Psoriasis Specialist in Ahmedabad
Psoriasis specialist in Ahmedabad provides you the permanent treatment. Treatment depends on the type of psoriasis and any other medical conditions of the patients. It is always advised to consult a psoriasis specialist before taking any medicine. Our experts will first listen to your problem and examine the level of your disease and then starts your psoriasis cure in Ahmedabad.