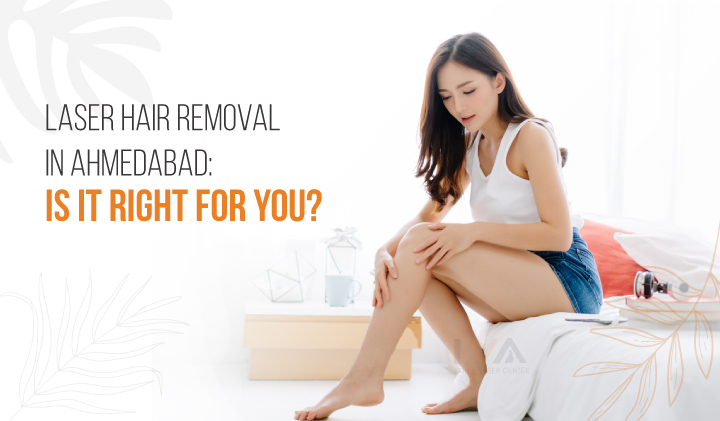 Laser Hair Removal in Ahmedabad: Is it right for you?
Laser Hair Removal in Ahmedabad: Is it right for you?
We may be apprehensive to try anything new and strange, but there is no need to be worried about Laser Hair Removal in Ahmedabad! With IVA Skin and Laser Center professionals at Laser Hair Removal Clinic in Ahmedabad by your side, your laser hair removal treatment for facial laser hair removal along with other parts of body will go smoothly and you'll have lovely, smooth skin.
IVA Skin and Laser Center Provides Two laser hair removal treatment in Ahmedabad:
1. Standard Laser Hair Removal
We employ the most latest technology for laser hair removal in Ahmedabad. This laser has the advantages of being less uncomfortable than earlier lasers and providing the best hair removal regardless of the skin type or season. Our laser also has the advantage of using a grid pattern and a high repetition rate, which significantly speeds up and eliminates overlap in the process. Given that hair grows at varying rates, total hair removal will still require a number of treatments. You will, however, see some quick outcomes!
2. Rapid-fire light (IPL)
Due to its ability to enhance the texture and tone of the skin, intense pulsed light is primarily employed as one of our anti-aging therapies. IPL treatments are carried out with the aid of a hand-held device that emits intensely focused light pulses. It isn't regarded as a laser removal method. However, it is almost painless and can be used to remove hair. It can be less efficient and require more sessions than our standard laser hair removal. You can talk about which approach is ideal for your needs during your consultation. Additionally, keep in mind that IPL is excellent for addressing skin conditions including UV damage, broken blood vessels and capillaries, and hyperpigmentation if you decide to use the laser removal method.
How can I tell if laser hair removal is the best option for me?
Any choice about an aesthetic or anti-aging procedure is highly individual. Nobody should or can make that choice for you. Let's take a closer look at that since some people make better prospects than others.
Laser hair removal could be a suitable choice if shaving affects your skin. Many people have "razor bumps" or "razor burn," which are skin irritations. Shaving can be a painful process for men who have acne, and it can also result in bleeding and open sores. You might find the perfect treatment in laser hair removal.
Laser Hair Removal Benefits
For those who have an overabundance of hair, laser hair removal treatment in Ahmedabad is an excellent option. Laser Hair Removal Benefits include facial laser hair removal for ladies. It could include the back hair for guys. You might have too much hair everywhere that it can grow. Laser hair removal can be the solution if this is the case and it concerns you.
Excessive hair is more obvious than it would be in locations where such clothing is not appropriate year-round. Therefore, your desire to pursue laser hair removal may be influenced by where you live.
Laser Hair Removal risk and side effect
There are certainly circumstances in which a laser hair removal treatment may not be the ideal choice for you, just as with any procedure. For instance, Laser Hair Removal risk and side effects might be more pronounced if your skin appears to react quickly. Our laser, however, uses two wavelengths and is safe for the majority of skin types. Pregnancy is typically a time when laser hair removal is postponed.
With iVA Skin and Laser Center, you can be confident that you will receive expert beauty advice if you have any concerns. Our clients come first .
Conclusion
iVA Skin and Laser center is available to meet all of your expectations with our Laser Hair Removal Clinic In Ahmedabad. Please get in touch with iVA Skin and Laser Center experts if you have any more inquiries! And if you're prepared to make an appointment for laser hair removal, you can do so by calling us or making an appointment online.
Your partnership with iVA Skin and Laser Center for Laser Hair Removal Treatment In Ahmedabad and our outstanding team of beauty experts will help you get Laser Hair Removal benefits and achieve all of your wellness and anti-aging objectives.