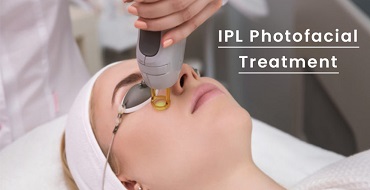 IPL Photofacial Treatment
Say goodbye to the effects of sun damage, rosacea, hyperpigmentation, and more. With the innovative Intense Pulsed Light (IPL) photofacial procedure, gentle skin rejuvenation is now easier than ever. A photofacial, or "fotofacial," is a 30-minute procedure in which intense pulses of light are used to penetrate deep into the skin. IPL photorejuvenation then causes collagen and blood vessels below the epidermis to constrict, reducing redness and age lines. If you suffer from any of these problems, photofacial may be the dermatological approach you've been looking for.
IPL photofacials are performed in a series, with each treatment lasting from approximately 20 minutes to an hour, depending on the amount of skin being treated. Typically, patients receive between three and six treatments spaced roughly one month apart.
What are photofacials used for?
Photofacials are used to treat skin blemishes and pigmentation issues. Broken capillaries (blood vessels), Rosacea, Sun damage (sun spots), Hyperpigmentation, Spider veins, Freckles, Fine lines.