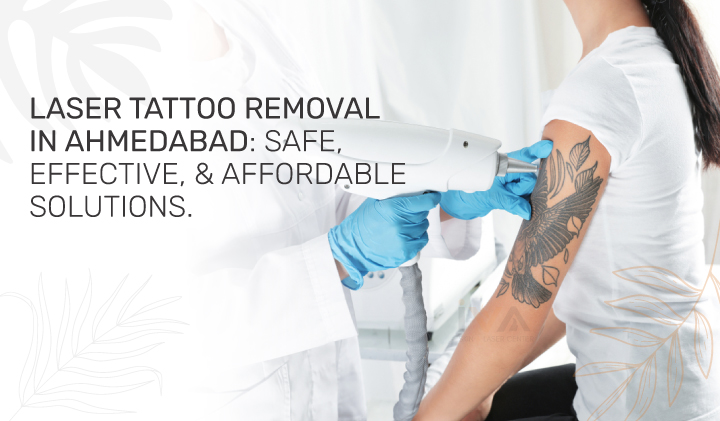 Laser Tattoo Removal In Ahmedabad Safe Effective & Affordable Slutions
Laser Tattoo Removal for the Spontaneous Decisions
Tattoos are permanent, and we have grown up being very well aware of this fact. Yet many people are inclined towards getting their bodies inked. Some are fond of tattoos as they look appealing and colourful and signify a message related to what they believe. While for others, tattoos are a form of expressing love for people, their partners and any specific thing revolving around their life. Irrespective of the reason, tattoos are quite popular and universal without gender or age biases and limitations. People take the "New Year, New Me" pretty seriously and regret their decisions after a few days or months, and in the worst scenarios, the very next day! Getting permanent ink on your body is one such decision. Probably, they don't like their tattoos anymore as their perception and perspective of their body have changed. Or they are no longer in love with people and things that they were once upon a time. So they resort to tattoo removal creams, pouring chemicals and bleaches on their tattoos or scrubbing them hard. Ouch! All these methods result in pain, blood and additional scars, but not tattoo removal.
So what could be the best way to reverse and undo your tattoo regrets? – Laser
Tattoo Removal in Ahmedabad!
Thankfully you can now ditch wearing full-sleeves and full-length clothes, covering your tattoos with a scarf or loose hair. You don't even have to wear a bandage over it now! If you don't like it or want to remove it for whatsoever reason, you can do so atIVA Skin and Laser Centre in Ahmedabad. We are equipped with the best technologies, machines and equipment for safe, quick and convenient permanent tattoo removal in Ahmedabad.
Tattoo removal in Ahmedabad or elsewhere is a widely recognised activity today. Despite that, one must know that the procedure for tattoo removal isn't as spontaneous as the tattoo application process was. You cannot decide in the spur of the movement as the removal procedure wouldn't be supervised by a tattoo artist who would simply re-run the syringe over the tattoo to erase it! Instead, it will be guided by our professional dermatologist, Dr Maitri Patel, at IVA Skin and Laser Centre, who will consider all the aspects related to your skin and then move ahead.
Permanent tattoo removal in Ahmedabad is a conscious decision; hence, we bring the best for you. There are many misconceptions, fears and queries about the procedure. Therefore, we have prepared a list of a few most often asked questions to help you gain an in-depth understanding of laser tattoo removal in Ahmedabad.
FAQ's
What is the best route for permanent tattoo removal in Ahmedabad?
People have tried their hands on many tattoo removal procedures, such as applying Ayurveda medicinal pastes, popping pills, and even making an effort with various home remedies. But none have worked. The most common techniques to remove a tattoo are Chemical peels, Laser surgery, Dermabrasion and Surgical Removal. Out of these, Laser tattoo removal in Ahmedabad is the most trusted, easy and affordable option.
How does laser surgery for tattoo removal work?
First, you must book a consultation appointment with our expert dermatologist at IVA Skin and Laser Centre. We will assess your tattoo and guide you through the procedure. We use the best and most high-end technology, the Q-Switched Nd Yag Laser. This system works fantastically on every tattoo except the multi-coloured ones. Removing them can be challenging. After consultation, we book a slot for permanent tattoo removal in Ahmedabad. First, we apply numbing cream or give an injection to make the process less painful. Each laser pulse sends light energy into the skin. You will sense a little warmth on your skin. The tattoo ink particles then absorb the same light energy. Once absorbed, the light energy will shatter the tattoo into tiny fragments. Once broken into smaller pieces, your body's immune system will gradually work to fade and then altogether remove the tattoo over the subsequent weeks.
Is the tattoo removal process painful?
We inject local anaesthesia or a topical cream at IVA Skin and Laser Centre to make the removal less painful. But despite that, many patients may experience some pain and discomfort based on the type and size of the tattoo. How many sessions does it take to remove a tattoo? In the first consultation session, we will inform you about the number of sessions a the cost of the entire process. Both price and session count depends entirely on the tattoo size and whether it is multi-coloured. A small tattoo can be removed in one go; otherwise, bigger ones take 6-8 weeks to be removed entirely. This is because the broken ink pigments take time between sessions to flush out from the skin. Does tattoo removal in Ahmedabad have side effects? There are no permanent or severe side effects, but some common ones are redness, swelling, blisters, tenderness, bruising and hyperpigmentation. Although immediately after the laser treatment, the symptoms will look alarming, but they will subside within a 3 to 7 days of the laser treatment.
Remove Your Tattoo under Expert Guidance
You only need the best medical assistance when your skin is in question. And Dr Maitri Patel understands this and therefore brings her years of professional expertise and knowledge to her top-notch and leading Skin and Laser Clinic – IVA. She is a leading dermatologist and skin specialist with years of delivering holistic skin and laser assistance to clients for years. We use the best state-of-the-art technologies
and equipment to achieve guaranteed results for your skin. Our services are unmatched! Book a consultation session today to get rid of your tattoo!

Call us on (+91) 9726131375 to book an appointment!